Las formas de la historia
equívocos, relaciones y memorias en los cerros jujeños
Palavras-chave:
historia, equivocación, crianza, andes
Resumo
Nos proponemos reflexionar sobre algunos aspectos metodológicos vinculados a la "equivocación controlada" (según Viveiros de Castro 2004) y su potencial para pensar el quehacer antropológico desde nuestra experiencia en la Comunidad Aborigen de Huachichocana (Jujuy, Argentina). Discutiremos la producción de un libro que escribimos y editamos junto con la comunidad, explicitando los equívocos implicados en su realización. Creemos que estos equívocos no se reducen sólo a las diferencias entre saberes locales y académicos, sino que siempre evocan a las formas en que estos cobran existencia: las 'formas del saber', entendidas como modos relacionales específicos que no se limitan a inventarios acerca de las cosas conocidas sino a los agenciamientos que permiten conocerlas. Esto no sólo es importante a la hora de pensar sobre (y con) los saberes en los cuales estamos interesados, sino también al momento de responder a las demandas por los nuestros.
Referências
ALBERT, Bruce. 2015. "Postscriptum. Quando eu é um outro (e vice-versa)". In: D. Kopenawa & B. Albert (aut.), A queda do céu. Palavras de um xamã yanomami. São Paulo: Companhia das Letras. pp. 512-549.
ARNOLD, Denise. 1992. "Introducción". In: D. Arnold, D. Jiménez & J.D. Yapita (comp.), Hacia un orden andino de las cosas. Tres pistas de los Andes meridionales. La Paz: Hisbol. pp. 15-30.
ARNOLD, Denise; YAPITA, Juan de Dios. 1994. "Comentario". In: E. Espejo Ayca (aut.), Jichha nä parlt´ä. Ahora les voy a narrar. La Paz: UNICEF / Casa de las Américas. pp. 165-183.
______. 1998. Río de vellón, río de canto. Cantar a los animales, una poética andina de la creación. La Paz: Hisbol.
CRUZ, Pablo. 2012. "El mundo se explica al andar. Consideraciones en torno a la sacralización del paisaje en los Andes del sur de Bolivia (Potosí, Chuquisaca)". Indiana, 29:221-251.
______. 2014. "Desde el diabólico mundo de los gentiles. Lecturas sobre un pasado muy presente en el espacio altoandino de Potosí y Chuquisaca (Bolivia)". Revista Española de Antropología Americana, 44(1):217-234.
CRUZ DE TOLABA, Asunción; TOLABA, Benito; MAMANÍ, Celia; TOLABA, Clara Gabriela; BARRIONUEVO, David; CRUZ, Felipa; TOLABA, Felisa; MAMANI, Gladis Dora; MARTÍNEZ DE CRUZ, Gudelia; CRUZ, Inocencia; ZAMBRANO, Iván; CASIMIRO, Jesús; BARRIONUEVO, José; MARTÍNEZ, Juan Carlos; BARRIONUEVO, Julio; TOLABA, Julio; MAMANI, Lucía; CRUZ, María Inés; CRUZ, Mario; TOLABA, Milton; MAMANI, Pablo; BARRIONUEVO, Pedro; MAMANI, Pedro; CRUZ, Sergio J.; CRUZ, Tomás; TOLABA, Urbano; TOLABA Vanesa; MAMANI, Verónica; MARTÍNEZ, Victoria; MAMANI, Yanina; LEMA, Verónica; PAZZARELLI, Francisco. 2015. De pircas, cardones, rastrojos, chivos y cuevas. La historia de la Comunidad Aborigen de Huachichocana. La Plata: Edición de la Comunidad Aborigen de Huachichocana.
DE LA CADENA, Marisol. 2010. "Indigenous cosmopolitics in the Andes: Conceptual Reflections beyond 'Politics'". Cultural Anthropology, 25(2):334-370.
GELL, Alfred. 1996. "Vogel's Net. Traps as Artworks and Artworks as Traps". Journal of Material Culture, 1(1):15-38.
HOLBRAAD, Martin; MORTEN, Axel Pedersen; VIVEIROS DE CASTRO, Eduardo. 2014. "The Politics of Ontology: Anthropological Positions". Fieldsights - Theorizing the Contemporary, Cultural Anthropology Online, January 13. Disponível em: http://culanth.org/fieldsights/462-the-politics-of-ontology-anthropological-positions
LATOUR, Bruno. 2004. "Whose Cosmos, Which Cosmopolitics? Comments on the Peace Terms of Ulrich Beck". Common Knowledge, 10(3):450–62.
LEMA, Verónica. 2013. "Crianza mutua: una gramática de la sociabilidad andina". Actas de la X Reunión de Antropología del Mercosur. CD Room.
______. 2014a. "Criar y ser criados por las plantas y sus espacios en los Andes septentrionales de Argentina". In A. Benedetti & J. Tomasi (eds.), Espacialidades altoandinas. Avances de investigación desde el Noroeste argentino. Buenos Aires: FFyL-UBA. pp. 301-338.
______. 2014b. "Hacia una cartografía de la crianza: domesticidad y domesticación en comunidades andinas". Espaço Amerindio, 8(1):59-82
______. 2017 "Del objeto al contexto: La(s) capa(s) "E" de Huachichocana III". Chungara. Revista de Antropología chilena, 49(2):209-226
LEMA, Verónica; PAZZARELLI, Francisco. 2015. "Memoria fértil. Crianza de la historia en Huachichocana". Nuevo Mundo Mundos Nuevos. Disponível em: http://nuevomundo.revues.org/67976 ; DOI : 10.4000/nuevomundo.67976
MARTÍNEZ, Gabriel. 1989. Espacio y pensamiento I. Andes meridionales. La Paz: Hisbol.
MIRANDA PÉREZ, José María. 2017. Junto, tupido y abundante. Economías feriantes y [contra]organización política. Buenos Aires: Antropofagia.
PAZZARELLI, Francisco. 2014. "Un queso entre otros. Sueros, familias y relaciones en los cerros jujeños". Revista de Antropología Colombiana, 50 (2): 95-118.
______. 2016. "La equivocación de las cocinas. Humos, humores y otros excesos en los Andes Meridionales". Revista de Antropologia, 59 (3): 49-72.
______. 2017. "A sorte da carne. Topologia animal nos Andes meridionais". Horizontes Antropológicos, 23 (48): 129-149.
PAZZARELLI, Francisco; GARCÍA, María Soledad. 2017. "Fieros y Criados. Devenires animales en los cerros jujeños". In: XVI Congreso de Antropología en Colombia y V Congreso de la Asociación Latinoamericana de Antropología, Bogotá.
PAZZARELLI, Francisco; LEMA, Verónica. 2018a. "A pot where many worlds fit: culinary relations in the Andes of Northern Argentina". Indiana. En prensa
______. 2018b. "Paisajes, vidas y equivocaciones en los Andes Meridionales Jujuy, Argentina". Chungara. Revista de Antropología chilena. En prensa
RIVET, María Carolina; TOMASI, Jorge. 2016. "Casitas y Casas Mochas Los antiguos y los abuelos en sus arquitecturas (Coranzulí y Susques, provincia de Jujuy, Argentina)". In: L. Bugallo & M. Vilca (eds.), Wak'as, diablos y muertos: alteridades significantes en el mundo andino. Jujuy: Universidad Nacional de Jujuy - Instituto Francés de Estudios Andinos. pp. 373-411.
SALOMON, Frank; NIÑO-MURCIA, Mercedes. 2011. The Lettered Mountain. A Peruvian Village's Ways with Writing. Durham: Duke University Press.
SPEDDING, Alison; ARNOLD, Denise. 2009. "La ritualidad en el Altiplano del pasado y de hoy en un marco identitario". In D. Arnold (ed.), ¿Indígenas u obreros? La construcción política de identidades en el Altiplano boliviano. La Paz: UNIR. Pp. 311-351.
STENGERS, Isabelle. 2005. "The cosmopolitical proposal". In: B. Latour & P. Weibel (eds.), Making things public. Atmospheres of democracy. Cambridge: MIT Press. pp. 994-1003.
STRATHERN, Marilyn. 2004. Partial Connections. New York: AltaMira.
VAN DEN BERG, Hans. 1989. La tierra no da así nomás: los ritos agrícolas en la religión de los aymara. Amsterdam: CEDLA.
VAN KESSEL, Juan; CONDORI CRUZ, Dionisio. 1992. Criar la vida. Trabajo y tecnología en el mundo andino. Santiago de Chile: Vivarium.
VIVEIROS DE CASTRO, Eduardo. 2004. "Perspectival Anthropology and the Method of Controlled Equivocation". Tipití: Journal of the Society for the Anthropology of Lowland South America, 2(1):3-22.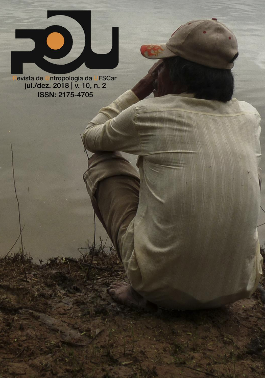 Downloads
Como Citar
Lema, V. S., & Pazzarelli, F. (2018). Las formas de la historia: equívocos, relaciones y memorias en los cerros jujeños. Revista De Antropologia Da UFSCar, 10(2), 105–125. https://doi.org/10.52426/rau.v10i2.255
Seção
Dossier Saberes locales y territorios o de cómo prospera el campo de los equívoc
Licença
Copyright (c) 2018 Revista de Antropologia da UFSCar
Este trabalho está licenciado sob uma licença
Creative Commons Attribution-ShareAlike 4.0 International License
.