Rumo ao mainstream:
trasladando autenticidades na arte
Palavras-chave:
antropologia da arte, arte primitiva, autenticidade
Resumo
Artes se rearranjam. Quando artistas que antes eram ditos "primitivos" se veem atuando num ambiente novo e expandido, com uma clientela internacional, novos materiais com os quais trabalhar, acesso a espaços de exibição urbanos, assessoria de agentes culturais e opções de trânsito internacional, sua reação pode incluir inovações altamente criativas tanto nas formas que produzem quanto nas interpretações que oferecem de seus trabalhos. O novo ambiente pode até mesmo levar a rearranjos nas visões que eles têm das origens e significados de sua herança artística...
Referências
AMETE, Franky. Colorie tes tableaux tembé. Cayenne: Editions PlumeVerte, 2004.
AMSELLE, Jean-Loup. L'artdela friche: Essai sur l'art africain contemporain. Paris: Flammarion, 2005.
BERLO, J. C., e Ruth B. PHILLIPS. Native North American Art. Oxford: Oxford University Press, 1998.
BORDEWICH, Fergus M. History's Tangled Threads. New York Times, February 2: A19, 2007.
BRUNÉ, Paulin. Sièges et sculptures chez les Noirs-Marrons des Guyanes. Cayenne: Éditions Equinoxe Communication, 1995.
COHEN, Noam. In: Frederick Douglass Tribute, Slave Folklore and Fact Collide. New York Times, January 23: A1, C12, 2007.
COUNTER, S. Allen, Jr., e David EVANS. I Sought My Brother: An Afro-American Reunion. Cambridge, MA: MIT Press, 1981.
_______. The Bush Afro-Americans of Surinam and French Guiana: The Connecting Link. Pamphlet, sem data.
de VRIES-HAMBURGER, L. Over volkskunst in het algemeen en die van Suriname in het bijzonder. Kultuurpatronen 1:106–110, 1959.
DOAT, Patrice, Daniel SCHNEEGANS, e Guy SCHNEEGANS. Guyane: L'art businengé. Grenoble: CRATerre Editions, 1999.
DUBELAAR, Cornelis N., e André R. M. PAKOSIE. Het Afakaschrift van de Tapanahoni Rivier in Suriname. Utrecht, the Netherlands: Bronnen voor de Studie van Suriname, Deel 21, 1999.
HERSKOVITS, Melville J. Bush Negro Art. In: The New World Negro. Frances S. Herskovits, ed. Pp. 157–167. Bloomington: Indiana University Press. [original: Arts 17(51):25–37], 1969 [1930].
HURAULT, Jean. Africains de Guyane: La vie matérielle et l'art des Noirs Réfugiés de Guyane. The Hague: Mouton, 1970.
KASFIR, Sidney Littlefield. Contemporary African Art. London: Thames and Hudson. LAMB, Venice, 1999. West African weaving. London: Duckworth, 1975.
LAMORAILLE, Antoine. Cent cinquantenaire: Abolition de l'esclavage. Saint-Laurent du Maroni, French Guiana: Centre Culturel Mama Bobi, 1998.
MORPHY, Howard. Aboriginal Art. London: Phaidon Press, 1998.
MULLIN, Molly H. Culture in the Marketplace: Gender, Art, and Value in the American Southwest. Durham, NC: Duke University Press. 1998.
MUNTSLAG, F. H. J. Paw a paw dindoe: Surinaamse houtsnijkunst. Amsterdam: Prins Bernard Fonds, 1979.
MYERS, Fred R. Painting Culture: The Making of an Aboriginal High Art. Durham, NC: Duke University Press, 2002.
PHILLIPS, Ruth B., e Christopher B. STEINER (eds.). Unpacking Culture: Art and Commodity in Colonial and Postcolonial Worlds. Berkeley: University of California Press, 1999.
PRICE, Richard, e SALLY Price. Two Evenings in Saramaka. Chicago: University of Chicago Press, 1991.
_________. Enigma Variations. Cambridge, MA: Harvard University Press. 1995.
_________. Les Marrons. Châteauneuf-le-Rouge: Vents d'ailleurs, 2003a.
_________. The Root of Roots: Or, How Afro-American Anthropology Got Its Start. Chicago: Prickly Paradigm Press, 2003b.
PRICE, Sally. Arte primitiva em centros civilizados. Traduzido do inglês por Inês Alfano. Rio de Janeiro: Editora UFRJ, 2000.
_________. Paris Primitive: Jacques Chirac's Museum on the Quai Branly. Chicago: University of Chicago Press, 2007.
PRICE, Sally, e Richard PRICE. Maroon Arts: Cultural Vitality in the African Diaspora. Boston: Beacon Press, 1999.
_________. Romare Bearden: The Caribbean Dimension. Philadelphia: University of Pennsylvania Press, 2006.
STEINER, Christopher B. African Art in Transit. Cambridge: Cambridge University Press. 1994.
TOBIN, Jacqueline L., e Raymond G. DOBARD. Hidden in Plain View: The Secret Story of Quilts and the Underground Railroad. New York: Doubleday, 1999.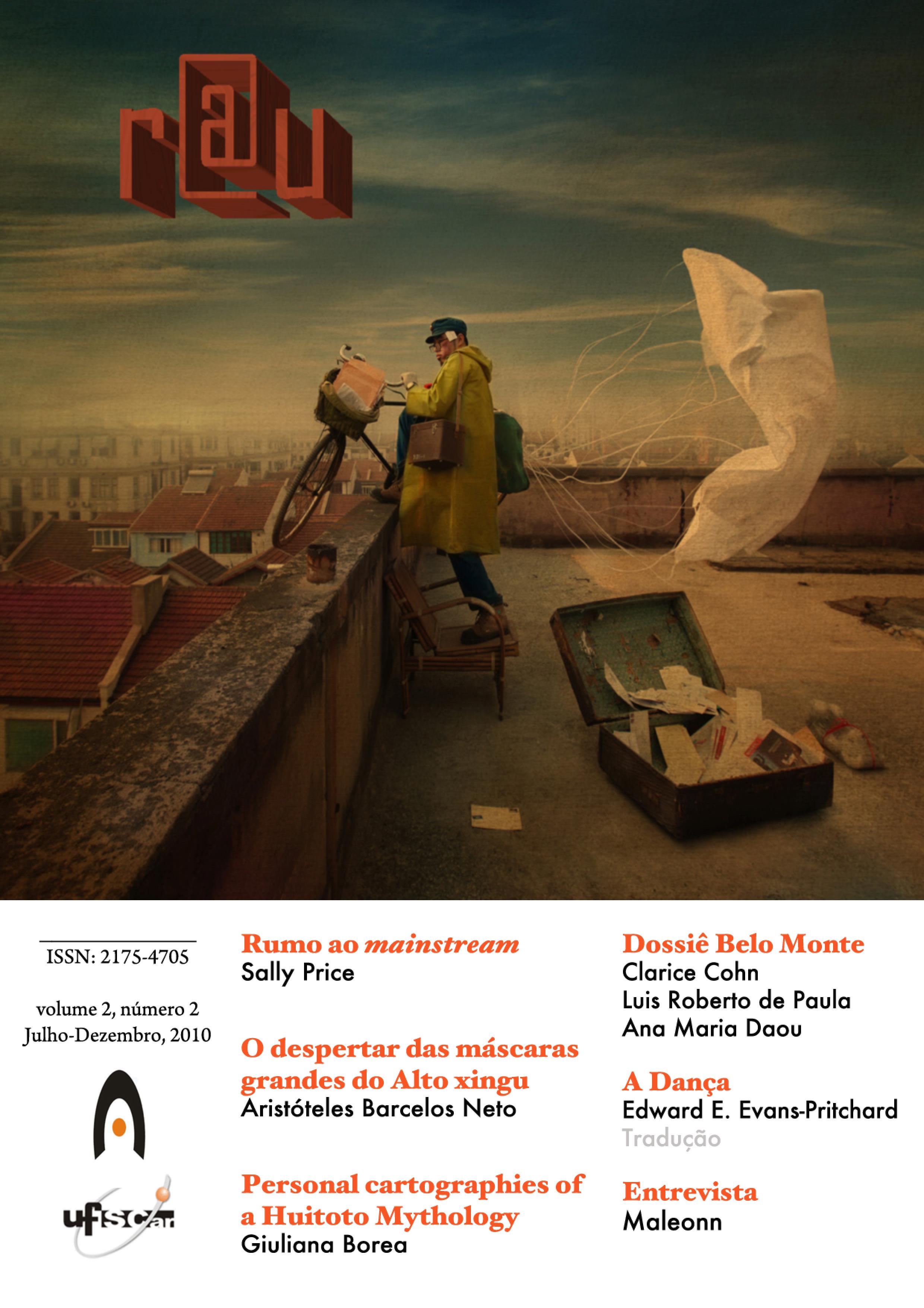 Downloads
Como Citar
Price, S. (2010). Rumo ao mainstream:: trasladando autenticidades na arte. Revista De Antropologia Da UFSCar, 2(2), 12–42. https://doi.org/10.52426/rau.v2i2.25
Licença
Copyright (c) 2021 Revista de Antropologia da UFSCar - R@U
Este trabalho está licenciado sob uma licença
Creative Commons Attribution-ShareAlike 4.0 International License
.